Uhm Tae Woong (Eom Tae Woong)(Hangul:엄태웅; born April 05, 1975) is a Korean Actor.Best known for his role Kim Yushin in the hit TV series Queen Seon Deok.
FilmographyEdit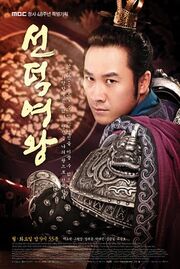 TV Shows
Queen Seon Duk (MBC, 2009)
Fight (TVN, 2008)
The Devil (KBS2, 2007)
Stranger than Paradise (SBS, 2006)
Wolf (MBC, 2006)
Resurrection (KBS2, 2005)
Delightful Girl Choon Hyang (KBS2, 2005)
Nine Tailed Fox (KBS2, 2004)
Drama City (KBS, 2004)
Movies
Chaw (2009)
Nimeun Meon Gose / Someone Dear Is Far Away (2008)
The Best Moment of Our Lives / Forever the Moment (2008)
My Love (2007)
Family Ties (2006)
Public Enemy 2 (2004)
My Family (2004)
Silmido (2003)
2009 MBC Drama Awards: Male Top Excellence Award (Queen Seon Duk)
Education: Kyungmin College
Skills: Swimming and horseback riding
Hobbies: Traveling and driving
Ad blocker interference detected!
Wikia is a free-to-use site that makes money from advertising. We have a modified experience for viewers using ad blockers

Wikia is not accessible if you've made further modifications. Remove the custom ad blocker rule(s) and the page will load as expected.