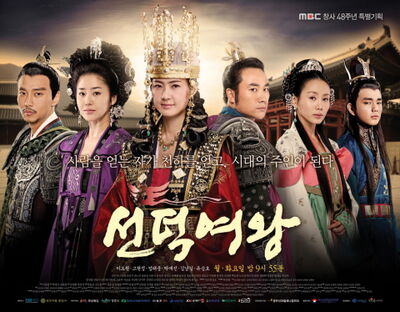 Welcome to Queen Seon Deok Wiki.
----
The one who secures the people will acquire the world and rule the ages...
Edit
Queen Seon Deok is a South Korean Historical Drama airing on MBC. Originally have 50 episodes but because of extremely high ratings MBC orders 12 more episodes. This drama is about the life of Queen Seon Deok of Shilla. Starring (Lee Yo-Won playing Princess Deokman) finding her way as a princess and growing into her status, opposite her rival Lady Mishil (Ko Hyeon-jeong). The drama also got a jolt of energy with the recent entrance of Kim Nam-Gil as the complicated Bidam, Lady Mishil's now-grown secret son, whom she abandoned in her quest for power. Also Starring Eom Tae-Woo as Kim Yushin, Yoo Seung-Ho as Kim ChunChu and Park Ye-Jin as Princess Cheonmyeong.
Latest NewsEdit
---
Kim Yuna, Ko Hyeon-jeong, Lee Yo-Won, Hwang Jeong-Eum, Moon Geun-Yeong or UEE.