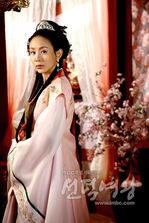 Princess Cheonmyeong (Actor Park Ye Jin) is the first daughter of King Jinpyeong, the older twin sister of Princess Deokman, wife of Kim YongSu, mother of Kim ChunChu and sister-in-law of Kim YongChun. Originally she sought to simply avoid Mishil, but her husband, Kim YongSu's death spurned her to want to bring down Mishil.
She defends and protects Deokman upon learning the truth, and ends up being killed after being mistaken for her sister by Daenambo.
Ad blocker interference detected!
Wikia is a free-to-use site that makes money from advertising. We have a modified experience for viewers using ad blockers

Wikia is not accessible if you've made further modifications. Remove the custom ad blocker rule(s) and the page will load as expected.