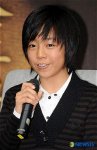 Lee Hyun Woo(Hangul:이현우; born March 23,1993) is a actor.
God of Study (KBS2, 2010)
Give Me Food (MBC, 2009)
Queen Seon Duk (MBC, 2009)
The Return of Iljimae (MBC, 2009)
Four Colours of Love (KBS2, 2008)
Dae Wang Sejong (KBS1, 2008)
Lobbyist (SBS, 2007)
The Legend (MBC, 2007)
Hwarang Fighter Maru (KBS2, 2006)
Spring Day (SBS, 2005)
Hwang Jin Yi (2007)
A Dirty Carnival / Mean Streets (2006)
Baribari Jjang (2005)
Holiday (2005)
RecognitionsEdit
2008 KBS Drama Awards: Young Actor Award (Dae Wang Sejong)
Ad blocker interference detected!
Wikia is a free-to-use site that makes money from advertising. We have a modified experience for viewers using ad blockers

Wikia is not accessible if you've made further modifications. Remove the custom ad blocker rule(s) and the page will load as expected.