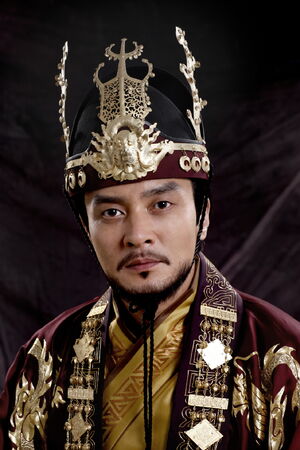 King Jinpyeong (actor Jo Min-Ki)579-632 was king of Silla, one of the Three Kingdoms of Korea.
King Jinpyeong succeeded King Jinji (576–579) and since he had no sons, was succeeded by his youngest daughter Queen Seondeok (632–647). He had additional two daughters, Princess Cheonmyeong who was the mother of Kim ChunChu, who becomes King Muyeol of Silla. His third daughter was Sohwa, legends (e.g. in Samguk Yusa) has it, debated, married King Mu of Baekje of the neighboring country. During his reign, many conflicts with Baekje and Goguryeo arose, and Jinpyeong sent emissaries to Tang to improve relations with China and pressurize Goguryeo and Baekje. Due to this fact, Silla's relations with the other Korean nations deteriorated, but gained more of China's support which later contributed to the Unification of Silla.
Ad blocker interference detected!
Wikia is a free-to-use site that makes money from advertising. We have a modified experience for viewers using ad blockers

Wikia is not accessible if you've made further modifications. Remove the custom ad blocker rule(s) and the page will load as expected.